Copper Pipe Earthing Electrode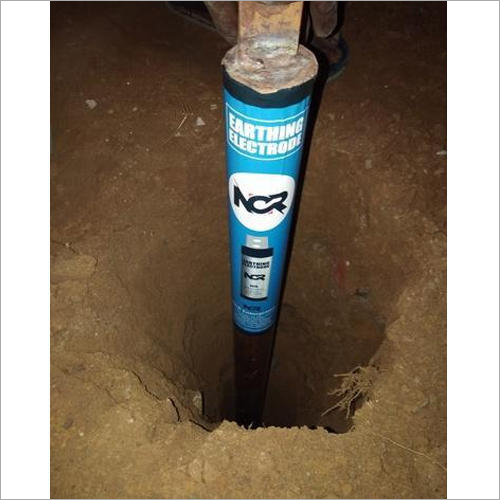 Copper Pipe Earthing Electrode
Price And Quantity
Product Specifications
40 to 90 Millimeter (mm)

Pure Copper
Product Description
NCR's Copper Pipe Earthing Electrode comprises a primary earthing electrode (outer pipe) of 99.9% pure copper. The electrodes hollow space is filled with extremely conductive and non-corrosive compounds. This crystalline conductive mixture protects the secondary electrode against corrosion for a long period of time.
Characteristically, copper is a highly conductive metal. Apart from its highly conductive nature, it is also extremely resistant to corrosion. Its high conductivity ensures easy discharge of fault currents to the earthing. The electrode has both ends permanently sealed with its topmost part being compressed to create an extended lead which features two holes on the terminal. These holes or slots are made for connecting equipment/load for dissipating the fault current.
Copper Pipe Earthing Electrode is an excellent choice for dissipating the fault currents, power surges, or lightning. It maintains stable voltage supply besides safeguarding electrical equipment, appliances, electrical machinery and instruments running on electricity.
Features of Copper Pipe Earthing Electrode
Our Copper Pipe Earthing Electrode is known for the following remarkable features:

Designed to discharge short circuit currents

CPRI approved and strip-in pipe technology

High load carrying capability

Ensures low resistance value for a prolonged period

Designed for nearly absolute stable voltage supply

Maintains uniform earth resistance value irrespective of climatic conditions and soil characteristics

Longevity of the earthing system

Compact installation area and less installation time
Applications
Copper Pipe Earthing Electrodes we offer are suitable for:

Earthing or grounding applications in offices, industries, buildings and residential complexes

For discharge of power surges to protect electrical equipment

As lightning arrester to ground lightning

For peak current dissipation in electrical appliances/equipment
Contact Us
Khasra No.33, Village Sikri, Near Balaji Dharam Kanta, Faridabad, Haryana, 121004, India
Phone :+918037408172