GI Earthing Electrode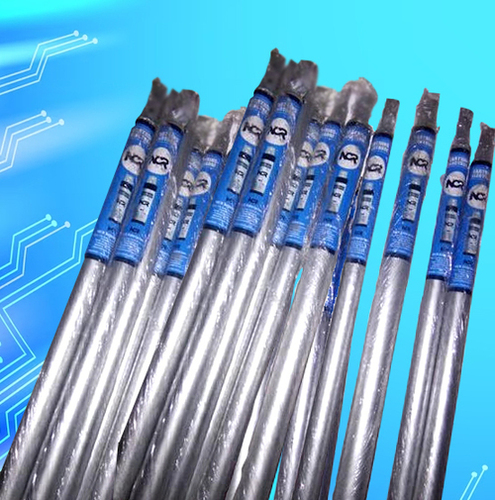 GI Earthing Electrode
Price And Quantity
Product Specifications
38 to 114 Millimeter (mm)

Earthing Electrode
GI

grounding electrical systems
low impedance path for electrical current to flow into the ground

Round
Product Description
We have a comprehensive yet wide assortment of GI Earthing Electrode. This electrode is developed especially for its application in safe earthing of areas and buildings. Manufactured in Mild steel pipe and it is hot dip galvanized, this is broadly demanded by our clients. Our customer can avail this GI Earthing Electrode as per their requirements at most competent prices.
An earthing system is an indispensable part of an electric power system. Earthing or grounding systems protects people from the electrical shock that may occur from an electrical circuit in a building. To create an earthing system, electrical equipment, namely, earthing electrode is required. Earthing electrodes are made of metallic materials used for attracting fault currents or lightning. The most commonly used electrode is GI Earthing Electrode. Normally designed as rods or pipes, the earthing electrodes are buried into the ground whereby the faulty currents are discharged safely without damaging electrical circuits or equipment, and causing harm to inhabitants in a house, building, or office.
Earthing electrodes also discharge lightning from the sky if it is directed toward a building. The electrode attracts the lightning and discharges the current safely toward the ground. In principle, the earthing electrodes must be penetrated into ground that contains moisture. It is penetrated inside the damp ground to reduce resistance. Thus, the earthing electrode provides a good conductive path to the faulty current and safe discharge to the ground.
Benefits of Earthing Electrodes:
Earthing electrodes have multiple benefits especially when it comes to the protection of man and material from electrical shocks or faulty equipment and appliances. Here are some notable benefits of earthing electrodes :
Protection of human or animal lives from electrical shocks;

Protection of homes, machinery, appliances, and equipment under faulty electrical conditions;

Guard against power surges due to lightning nearby;

Eliminates or reduces voltage fluctuations in buildings;

Ensures steady voltage supply;

Reduces electrical noise; and

Provides safe passage to dispel short circuit currents and lightning.
Features of GI Earthing Electrodes
We manufacture outstanding quality GI Earthing Electrodes. GI or galvanized iron is achieved through galvanization of iron which is a process of coating the iron with zinc. Thus, galvanization of iron increases its corrosion resistance. There are other materials, such as stainless, which are more resistant than galvanized iron but they are not cheap and therefore, not the preferred choice for earthing electrodes. Some other features, for which our GI earthing electrodes are used, are:
Suitability to all kinds of soil
High dissipation rate of current
Increased durability and reliability of purpose
No requirement of pouring water
Periodical moisturizing is not needed
Applications of GI Earthing Electrode
For a neutral earth system
In the lightning protection system
Complying with safety requirements for electrical substation
In buildings for the safe dissipation of fault currents and lightning
Protection of electronic and AC power systems, and central communication systems
Product Details of GI Earthing Electrode
Length : 2 0 0 0-3 0 0 0 mm
Product Type : EARTHING ELECTRODE
Packaging Type : poly pack
Color : Silver
Brand : NCR
Material : GI
Diameter : 38 to 114 mm
Outer Diameter : 46-8 0 mm
FAQs of Earthing Electrode
:
What is an earthing electrode?
An earthing electrode is electrical equipment manufactured as a metallic rod or pipe for the safe passage of fault currents or lightning. These are particularly designed to improve the electrical earthing of buildings. The main purpose for which an earthing electrode is used is to ensure a zero potential surface around the area where the installation of electrical equipment has been done. It is achieved by connecting non-current carrying parts of the equipment to the earth. It works by preventing the occurrence of dangerous voltage on the enclosures and helps in providing safety to people around. Earthing electrodes remain in contact with the earth. Engineers make sure to fit it properly to minimize breakdown or service interruptions.
Earthing electrodes are made as rods, pipes, or plates since they need to be penetrated into the damp part of the ground for the reduction in electrical resistance. The earthing electrodes comprise metal conductors highly resistant to corrosion till the time they are expected to serve the purpose. At times, metallic mats or plates are also buried in the ground for use as earthing electrodes. Sometimes, a copper wire ring encircling a structure is also used as earthing electrodes.
GI earthing electrodes are most commonly used in electrical grounding systems since they are resistant to corrosion yet a cost-effective option. They possess a high current dissipation rate and are suitable for all types of soil.
How to test earthing electrode resistance?
The resistance of the earthing electrode can be measured through different methods. The testing depends on the type of neutral system, installation type, and the likelihood of power supply termination. Four variables impact the resistance of an earthing system. These are:
Soil composition
Soil's moisture content
Soil temperature
The depth of the electrode
The resistance of earthing electrode is contingent on the soil's resistivity. Thus, it becomes imperative to measure the resistivity of the soil where the electrode is to be inserted. Several test methods are used to measure earthing electrode resistance. The tests are based on a site's fall of potential (FOP). Considering these factors, the following most commonly employed methods are used for measuring earthing electrode:
Fall of Potential 61.8 percent test
Fall of Potential - Test using a clamp on CT
Fall of Potential - Slope test
In the FOP method, two auxiliary earth electrodes apart from the test electrode are placed at ideal distances from the test electrode. A controlled current is passed between the auxiliary current electrodes and the test electrode. Through this method, the potential difference between the auxiliary current electrode and the test electrode is measured.
Which electrode is used for earthing purposes?
Galvanized iron or GI electrode is most commonly used for the earthing system. The GI earthing electrodes boast high resistance to corrosion and a good current dissipation rate. It also doesn't require periodical moisturizing or pouring of water. Besides, GI earthing electrodes are cost-effective in comparison to others.
What are the types of earthing electrodes?
There mainly four types of earthing electrodes, namely:
Pipe earthing

Plate earthing

Rod earthing

Mat earthing
Out of these earthing electrode types, the pipe earthing electrode is the most commonly used as it is suitable for all types of soil.
What is the difference between GI Earthing Electrode and Earthing Electrode Rod?
GI earthing electrode is made of galvanized iron. This can be manufactured as pipes, rods, or plates while earthing electrode rod is manufactured in the shape of a solid rod with a pointed tip for smooth penetration into the earth's surface.
How do you manufacture an earthing electrode?
Earthing electrodes can be manufactured using different materials, such as copper, stainless steel, galvanized iron (GI), etc. The electrodes are manufactured as rods, plates, pipes, or mats. Depending on the type of earthing electrode, engineers adopt the manufacturing technique. For instance, GI earthing electrode is made by coating iron with a certain percentage of zinc. Likewise, a copper electrode is manufactured by molecularly bonding 99.9% pure electrolytic copper upon a low-carbon steel structure.
What is the function of an earthing electrode?
The main function of an earthing electrode is to create a safe space for human beings for protection from electrical shocks or to create a zero potential surface level around the area where electrical equipment is installed. Earthing electrodes work by preventing the occurrence of dangerous voltage and safe dissipation of fault currents through the earthing system.
Technical Details

Contact Us
Khasra No.33, Village Sikri, Near Balaji Dharam Kanta, Faridabad, Haryana, 121004, India
Phone :+918037408172